About Te Puru Beach Lodge

Welcome to the beautiful and luxurious Te Puru Beach Lodge, the place to go to get away from it all.
The lodge is an absolute coastal beachfront, 3 modern suite luxury B & B with plenty of guest parking on the western Coromandel Peninsula, alongside a scenic coastal reserve and river estuary.
Just 15 minutes from Thames township with its historical buildings and shops, vibrant market and cafes, the lodge is set back privately from the main tourist route to Coromandel, down a picturesque tree lines driveway.
Te Puru Beach Lodge is the perfect spot on the Coromandel to fish, explore or just relax and restore.  
Swim, kayak or just enjoy the beach;
Surfcast for fish just a few steps out front;
Enjoy a fishing or helefishing charter in the Gulf;  
Walks in the Coromandel Coast hills and rivers;
Or simply enjoy the natural beauty and abundant bird life of our piece of paradise.
Relax and fall asleep to the sound of the waves, wake to a bountiful breakfast and over winter warm yourself in front of our log fire.
Additional Services - to make your stay truly Special
We want to make your stay truely memorable and so are happy to assist you in arranging a range of services to help your stay be that little more special.
As an example, other additional (chargeable) services  may include if requested:
Evening meals – requested at time of booking;
Dinner Drinks;
Specialty Health Drinks (Smoothies);
Packed picnic lunches.
In-house Wellness/Retreat services:

Naturopath & Medical Herbalist consultations;
Migun thermal medical massage bed;
Bioptron Infrared Light Treatment;
Infrared Sauna.

Activities Bookings made with external service providers by hosts on behalf of guest:

Thai Massage Therapy;
Beauty/SpaTreatments;
Airport transfers;
Kayak & Bicycle hire;
Fishing and Helicopter Charter Trips;
Coromandel Ferry trips, etc.
Tell us how we can help you make your stay truly special.
Environmental Policy
We strive to keep improving our environmental performance across all the aspects of our business. Our sustainability will improve with experience and ongoing research.
Informed buying decisions help us to:
reduce the amount of raw materials used in manufactured goods, eliminate pollution, cut waste and help preserve natural habitats in our coastal area.
Efficient use of energy, water, office products, fuel and other resources reduces our impact on the environment. To reduce energy impact we installed instant natural gas water heating and we cook with natural gas. We also removed the inefficient open fireplace and installed a Masport Solid Fuel Wood Burner, which we can use as a cooktop/boil kettle in any power outages. Firewood comes from pruning the many trees on our property. We installed a ceiling fan to distribute the warm air efficiently throughout the Lodge's two levels, and installed floor to ceiling sliding glass doors and extra windows to bring in the sunshine/heat/fresh air into the Lodge upstairs and down. With the 2 large main water tanks and two smaller water tanks we installed providing rainwater not only from our Lodge roof, but also from carport, and garage roof, for watering the garden and as a back-up supply for the Lodge. We have installed a UV filter system and carbon filter system to remove any possible contaminants.
We recycle and compost as much waste as possible, to help reduce air/land pollution and into the landfills. Any cardboard boxes or packing waste is taken to the local "Seagull" dumping station for recycling. We apply mulch from our lawnmowing or weedeating on the property to protect/restore moisture and energy to the soil and the plants.
To protect wildlife and their natural habitats we maintain our grounds and the reserve around us in an environmentally sensitive way, helping the native birds, insects and trees thrive. We talk with DOC about our birdlife – Dale has been appointed "The Voice for the Dottrells" in our immediate area.
We take action to catch any birdlife predators. We choose plants and trees that attract bees and birds.
Dual flush toilets, help save water, and to ensure our new septic sewerage treatment field runs smoothly and feeds the extensive native flax and grass plantings, we only use natural eco-friendly bio-degradable toilet paper, toiletries, cleaners and laundry detergent throughout the Lodge.
We grow our fruit, herbs and vegetables without pesticides or insecticides. We use natural food scraps and garden waste in composting. We propagate and multiply many of our plants and herbs. Many of the native plants and herbs grown on our property are used here by Margaret, a Naturopath/Medical Herbalist. When we purchase fresh produce, we seek out organically grown where available.
We strive to use local businesses for all our needs, in order to save air/land pollution via transport impact, and support the community.
To help us care for our environment please use your towels more than one time. If you choose to, please hang them back up, or leave them on the shower floor for replacement. If you wish to help reduce waste, please use a bio-degradable or paper bag for recycling items.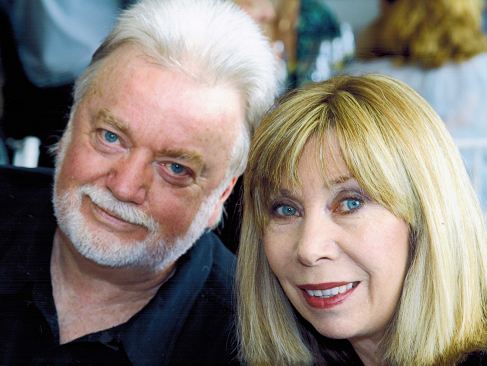 Meet Dale & Margaret
Your hosts Dale & Margaret Farnsworth enjoy meeting and getting to know people from all over the world, in their unique beachfront home on the edge of the Firth of Thames/Hauraki Gulf.
Both look forward to sharing their local knowledge to help with guests' itineraries, activities and getting the most from their stay.
Margaret is a qualified Naturopath & Medical Herbalist – book from the YoungerMe Wellness Spa Menu, while
Dale is a talented and enthusiastic Home Chef who, on occasion, has been known to share his fishing rods!